Paperwork Instructions
If you have questions about paperwork not explained here, email the Graduate Coordinator at
tbpgradcoordinator@gmail.com
.
Graduate, Alumnus, and Eminent Engineer Qualification Form
For graduate students only:
there are two documents that must be submitted in addition to completing the other requirements for election into Tau Beta Pi. Please find those forms and instructions on how to complete them below.
Undergraduate students do not need to complete this section.
I. Complete the Report of Eligibility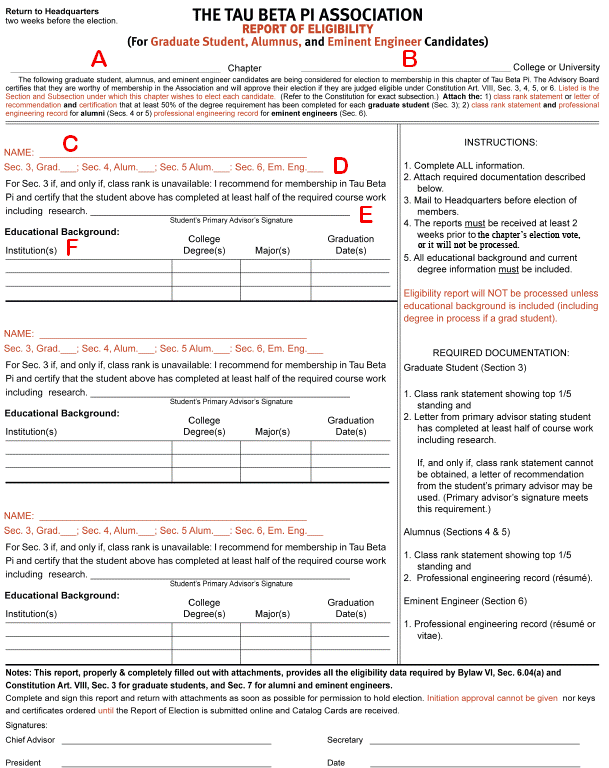 Write "Florida Alpha".
Write "University of Florida".
Print your full name.
Only check one.
Get your primary advisor to sign this section. If your primary advisor is not available or you do not have a primary advisor, you may have a secondary advisor or academic coordinator sign this.

YOU MUST HAVE A SIGNATURE IN THIS SECTION, EVEN IF YOU ARE NON-THESIS!

List all of your degrees, including at least one Bachelor's degree and your

current degree

. For your current degree, write your anticipated graduation date.
Do NOT fill out any other sections.
By clicking this link, you agree to fill out the form as described above - [PDF]
II. Complete the Letter of Eligibility
Graduate candidates are also required to attach a signed letter from their primary academic advisor stating that the student is in the top 1/5 of their class and has completed at least half their course work and research. For non-thesis graduate candidates, the letter must also state that the candidate is pursuing a non-thesis degree. We recommend you use the following templates:
Alumnus candidates must attach a statement showing their top 1/5 standing and a professional engineering record (résumé). Eminent engineer candidates must attach a professional engineering record (résumé or vitae).

III. Submit your Report and Letter
Scan your Report of Eligibility and Letter of Eligibility to create digital copies. If possible, please use a high resolution scanner. Email the scans to our Graduate Coordinator, Kelsey at tbpgradcoordinator@gmail.com You can also submit the forms in person to Kelsey at her office hours or at any meeting before the form deadline.
If you filled out graduate student paperwork in a previous semester, but were not initiated, you must submit a new form.